The Tonight Show Starring Jimmy Fallon
is an American late-night talk show hosted by Jimmy Fallon on NBC. The show premiered on February 17, 2014. It is the seventh incarnation of NBC's long-running Tonight Show franchise, with Fallon succeeding a retiring Jay Leno as host of The Tonight Show. The show also stars sidekick and announcer Steve Higgins and house band The Roots who were also on Late Night with Jimmy Fallon. The program airs weeknights at 11:34 p.m. ET/PT. The show opens with Fallon's topical monologue, then transitions into comedic sketches/games, concluding with a guest interview and musical performance.
Harry Styles appeared on the show on July 19, 2017 to promote his film Dunkirk.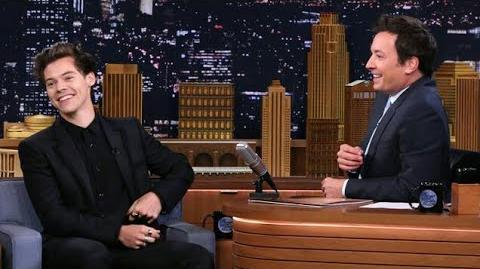 Ad blocker interference detected!
Wikia is a free-to-use site that makes money from advertising. We have a modified experience for viewers using ad blockers

Wikia is not accessible if you've made further modifications. Remove the custom ad blocker rule(s) and the page will load as expected.