Teen Vogue
magazine began as a version of Vogue magazine for teenage girls. This U.S. magazine focuses on fashion and celebrities and offers information about the latest entertainment and feature stories on current issues and events.
One Direction appeared on the December 2012/January 2013 and September 2013 cover of the magazine.
"One Direction talked to Teen Vogue for their cover story about the massive fan base they have, touring the world promoting their latest album and also their documentary This Is Us, debuting in August." [1]
"Yes, it's true: the boys of One Direction are our December/January cover stars! A lot has changed since Harry, Zayn, Niall, Louis, and Liam were contestants on the U.K. version of The X Factor. Their meteoric rise to stardom over the past couple of years has been documented in the studio, as well as on the red carpet." [2]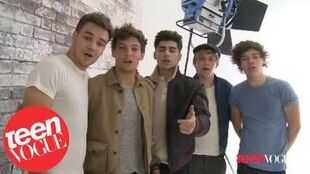 References
Edit