Midnight Memories
is the third studio album by the British-Irish boy band
One Direction
, released on November 25, 2013 by
Columbia Records
,
Syco Music
and Sony Music. The album was described as having a "slightly rockier tone" than their previous efforts.
Background
One Direction began working on their third studio album whilst embarking on their second international tour, the Take Me Home Tour. The album was announced simultaneously with the news of the band's third world tour, the Where We Are Tour, which subsequently led fans to wrongly assume that the album title would be named Where We Are. Member Louis Tomlinson proclaimed that the album would have a "rockier" sound to it than the band's previous releases. The official title of the album was announced on September 6, 2013, starting with Zayn Malik tweeting a teaser video of Harry Styles spelling out the word "Mid" out of a pile of alphabet cards on the floor, followed by a full video posted on the band's Instagram account later on, revealing the title, Midnight Memories. [1]
Singles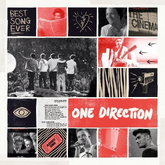 Commercial Performance
The album debuted at number one on the Irish Albums Chart and number two on the Dutch Albums Chart. On November 29, 2013, it was announced that it had become the fastest-selling album of 2013 in the UK, with 187,660 copies sold in four days. It was revealed on December 1, 2013, that the album had sold in excess of 237,000 copies in its first week in the UK, beating Gary Barlow's Since I Saw You Last, and becoming the fastest selling album in the UK since Michael Bublé's Christmas in December 2011, as well as outperforming One Direction's two previous albums Up All Night (2011) and Take Me Home (2012). It became the best-selling album of 2013 in the UK with 685,000 copies sold for the year. [2]
Track List
Standard Edition
#
Title
Writer(s)
Producer(s)
Length
1.
"Best Song Ever"
Wayne Hector, John Ryan, Haille Walker, Julian Bunetta, Ed Drewett
Bunetta, Ryan, Matt Rad
3:20
2.
"Story of My Life"
Jamie Scott, Ryan, Bunetta, Niall Horan, Zayn Malik, Liam Payne, Louis Tomlinson, Harry Styles
Bunetta, Ryan
4:05
3.
"Diana"
Ryan, Bunetta, Scott, Tomlinson, Payne
Bunetta, Ryan
3:05
4.
"Midnight Memories"
Bunetta, Scott, Ryan, Tomlinson, Payne
Bunetta, Ryan
2:56
5.
"You & I"
Hector , Mich Hansen, Bunetta, Harry Johnson, Joseph Belmaati, Alistair Tennant
Bunetta, Ryan
3:57
6.
"Don't Forget Where You Belong"
Horan, Tom Fletcher, Danny Jones, Dougie Poynter
Jones, Poynter, Fletcher
4:01
7.
"Strong"
Tomlinson, Ryan, Scott, Bunetta
Bunetta, Ryan
3:04
8.
"Happily"
Styles, Savan Kotecha, Carl Falk
Falk,

Krstian Lundin

2:55
9.
"Right Now"
Ryan Tedder, Payne, Styles, Tomlinson
Tedder, Jake Gosling
3:20
10.
"Little Black Dress"
Payne, Tomlinson, Bunetta, Ryan, John Theodore Geiger
Bunetta, Ryan, Geiger
2:37
11.
"Through The Dark"
Payne, Tomlinson, Scott, Toby Smith
Scott, Smith, Ryan
3:41
12.
"Something Great"
Styles, Jacknife Lee, Gary Lightbody
Jacknife Lee
3:56
13.
"Little White Lies"
Payne, Tomlinson, Bunetta, Drewett, Ryan, Hector
Bunetta, Ryan
3:17
14.
"Better Than Words"
Payne, Tomlinson , Bunetta, Ryan, Scott
Bunetta, Ryan
3:27
Deluxe Edition
#
Title
Writer(s)
Producer(s)
Length
15.
"Why Don't We Go There"
Hector, Johnson, Kelly, Robson, Horan, Malik, Payne, Styles, Tomlinson
Robson
2:54
16.
"Does He Know? "
Bunetta, Ryan, Scott, Tomlinson, Payne
Bunetta, Ryan, Scott
2:59
17.
"Alive"
Bunetta, Ryan, Scott, Tomlinson
Rad, Bunetta, Ryan
2:41
18.
"Half A Heart"
Lindy Robbins, Drewett, Robson
Robson
3:08
References
Ad blocker interference detected!
Wikia is a free-to-use site that makes money from advertising. We have a modified experience for viewers using ad blockers

Wikia is not accessible if you've made further modifications. Remove the custom ad blocker rule(s) and the page will load as expected.